Announcements & News
Message from the Director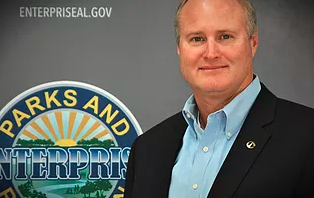 Our mission is to provide a variety of recreational programs, facilities and park areas that will enhance the quality of life for all citizens in our community.
Our department's focus is providing recreational programs, athletic events, and maintaining parks and facilities in a clean and environmental manner. Our staff is devoted and dedicated in providing programs of diversified activities with effective leadership to our community. I believe our dedication shows in the many vast opportunities we give our community on a yearly basis. Our department manages the Recreational Center, Moose "Hope" Gym, 7 City Parks, 35 Ball Fields, 8 Tennis Courts throughout the City of Enterprise.
Programs, Sports, and Events
We encourage you to make your way through our website to get a full understanding of what programs/events we offer. We are excited to announce that we have teamed up with Rec Desk to be our software program that will provide better access to our programs and facilities. This software will allow you to have access to Online Registrations for Programs and Rentals, master Calendar of Activities and Events, League Schedules for Games and Team Practices, Standings, Facility Availability for Rentals and Opportunity to receive email/text from Parks and Recreation such as Reminders, Cancellations, Upcoming Events and Any Schedule Changes.
If you have any questions, please contact our Recreation Center as we look forward to serving you!
Thank you,
The City of Enterprise Parks and Recreation Department strives to bring the community together year-round with youth and adult sports, programs for all ages, free and low-cost events, and interactive community parks. We would not be able to provide these opportunities to the community without the support and sponsorships of local businesses and organizations.
If you are interested in being a 2024 Sponsor, please take a moment to review our sponsorship opportunities and fill out the
Sponsorship Form
no later then January 26, 2024. You may email, mail, or bring the form in person to the EPRD Program Coordinator, Krista Hooper. For questions or additional information, please feel free to contact Krista at (334) 348-2682.
Thank you to our 2023 Top Sponsors!